Modern Luxury Magazine Features Andrew Stevens NY
Posted by AMY OMAN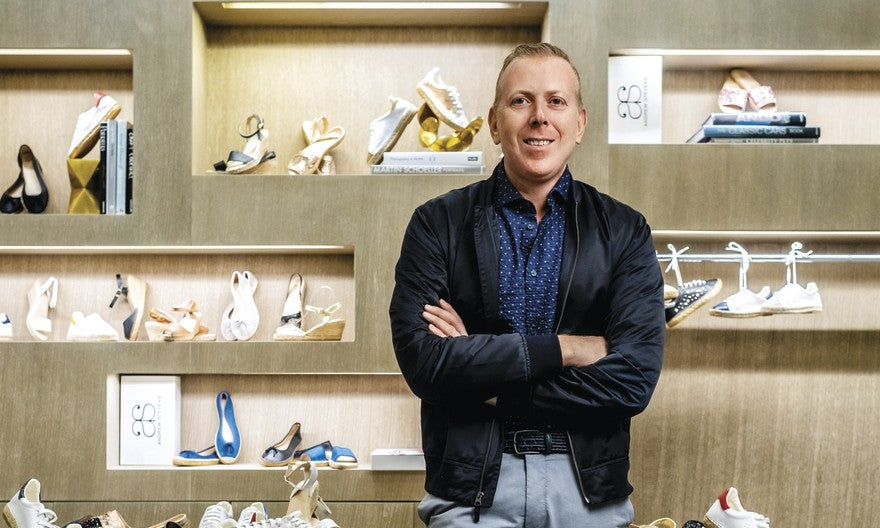 FEATURES
Stepping Up
Photography by Nick Garcia | Steven Antebi garments provided by Saks Fifth Avenue, Brickell City Centre
09.17.18
Footwear designer Steven Antebi takes a leap forward with the debut of his first men's collection.
Fusing styles is nothing new for Steven Antebi. The CEO of
Andrew Stevens Footwear
is known for sneakers, flats, sandals and wedges with espadrille outsoles. "I was born in the Middle East and spent most of my childhood in New York," he says, "so I know a thing or two about synthesis."
Antebi fell in love with footwear after a stint at his uncle's shoe company following his graduation from college. In 1992, he co-founded Andrew Stevens Collection, and three years ago he relaunched the brand under its new name from right here in South Florida. Today, his made-in-Spain offerings for women have a loyal worldwide following. "Although stylish, espadrilles are known for being abrasive on the foot due to the rope texture inside the shoe," he says. "I resolved that issue by adding a soft leather sock lining inside. Many of my clients tell me it's like walking on pillows."
This autumn, Antebi is hoping the aforementioned approach will win over guys when he launches his first men's collection. "A lot of my clients' husbands kept telling me how [our shoes] would be perfect for them," he says, "so we'll be offering [a variety of] men's sneakers with espadrille bottoms in suede and leather, and a lot of fun fabrics."
Although he's typically hard at work growing his company, Antebi does enjoy the rare moment lounging by the pool at Soho Beach House, constantly hoping for new ideas to germinate.
"Miami is a global city," he says, "and it's a good place to be for inspiration." 
Collection 2019
Sale 70% Off
Title for image